Meetings on the evaluation of the community-based IPE program at University of Health Sciences, Lao PDR
Date: 24-25 October 2016
Venue: Administrative building, University of Health
     Sciences, Vientiane, Lao PDR
Members: Prof. Hideomi Watanabe,
      Prof. Hiromitsu Shinozaki,
      Dr. Bumsuk Lee and
      Dr. Takatoshi Makino
Meeting on the evaluation of the community-based IPE program
 During the third workshop on IPE at University of Health Sciences on 28-29 December 2015, it was decided that UHS will start a community-based IPE program in January 2016, and evaluate its educational effects in collaboration with Gunma University Centre for Research and Training on Interprofessional Education, WHO Collaborating Centre. In order to discuss the evaluation of the community-based IPE program, a mission of four faculty members of the Centre visited University of Health Sciences (Photos 1 and 2).
 Firstly University of Health Sciences explained the detail of the community-based IPE program. In the following discussions, the program committee members provided some feedback and opinions for improving the program. Moreover, the Centre had an interview with two community supervisors. UHS is highly interested in extending the IPE concept into a hospital based training program.
 University of Health Sciences and the Centre had fruitful discussions and agreed to continue to maintain close cooperation.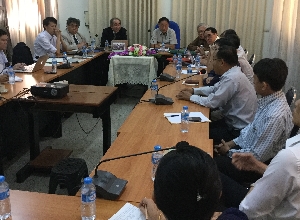 Dr. Bumsuk Lee with the approval of WHO CC mission staff
            Centre for Research and Training on Interprofessional Education
                                    11 November 2016