Report of Kusatsu Seminar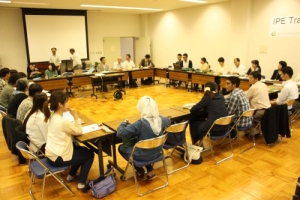 Report of Kusatsu Seminar
Activity 5 of Gunma University Centre for Research and Training on Interprofessional Education (WHO Collaborating Centre)
Purpose: To promote and support the development of IPE that can be adapted to fit various educational and social environments
Date: August 25-September 1, 2015
Venue: Kusatsu Seminar House, Kusatsu, Gunma, Japan
Joint activities:
  •Domestic IPE Training Course for academic staff and practitioners
  •International IPE program for AUF and GU 2015 at Kusatsu:
    An exchange program between students of Angeles University Foundation and
    Gunma University
Participants (51 in total):
  •Seven faculty members from abroad:
    Two from Indonesia, two from Lao PDR, and three from the Philippines
  •Three undergraduate students from the Philippines
  •11 faculty members from seven Japanese universities
  •Four health practitioners from three Japanese hospitals
  •26 participants from Gunma University
     13 staff members of WHO CC
     Four faculty members
     Three graduate students
     Six undergraduate students
Timetable: Refer to the two versions of schedule, long and short ones, in the attachment
Summary of the general discussion on August 27:
  1) Student participants think that village communities are a good module. Students can collect information about diseases occurring in rural areas. The transportation fee for students is one of the challenges in the training program implemented in rural areas.
  2) Collaboration among faculty members from different professions is one of the challenges that have to be overcome.
  3) Promoting factors include the approval of the Ministry of Education, leadership of Dean or President, and motivation of faculty members.
  4) Training system with IT techniques should be taken into account.
  5) Lessons learned from Gunma University IPE program include knowledge of IP in the practice setting, importance of face-to-face interaction and interaction with practitioners outside of hospital.
  6) To overcome the domination of MDs in collaborative practice, IPE of medical students in earlier academic years may work. Medical errors and rural areas can be good modules.
  7) From the viewpoint of comprehensive community health care, sharing information about patients among multi-professions may provide good comprehensive care for patients.
 In summary, participants enjoyed meeting each other. Most of them expressed willingness to initiate or develop their own IPE programs in line with the Toolkit, and to report their progress to WHO CC. Finally some participants had an opportunity to see Her Majesty the Empress since she attended the Kusatsu International Summer Music Academy & Festival with her husband, His Majesty the Emperor Akihito, who stayed in a hotel near our seminar house.
Organizer:
  Gunma University Centre for Research and Training on Interprofessional Education
  (WHO Collaborating Centre)
Auspices:
  Japan Interprofessional Working and Education Network (JIPWEN)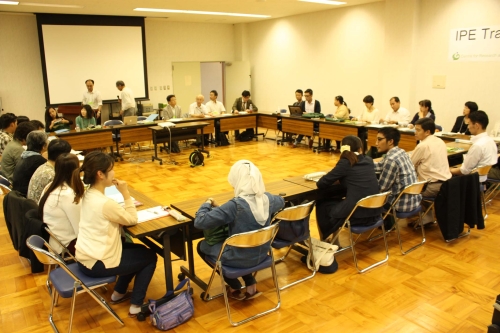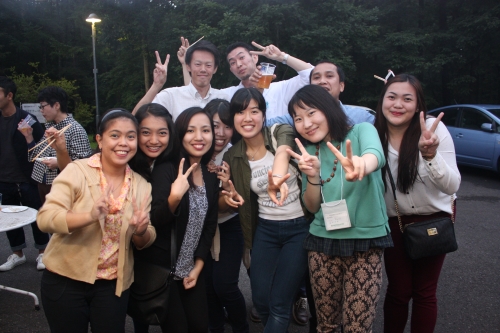 Joint conference for general discussion   Opinion exchanges at open-air party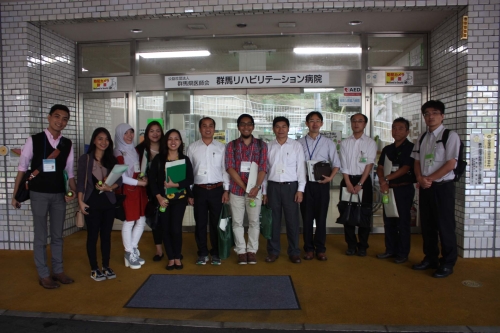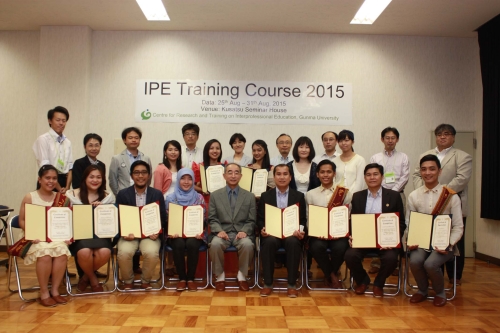 Visit to Rehabilitation Hospital (optional)    Upon completion of the course