Report of Third meeting on health professional education reforms in transition economy countries
Title:
Third meeting on health professional education reforms in transition economy countries
Date:
23-25 July 2019
Venue:
Shanghai, China
Organizer:                            Photo1
WHO/Western Pacific Regional Office (WPRO)
Members:
Prof. Akinori Kama and Prof. Bumsuk Lee
Summary in brief
 WHO has convened two prior meetings on strengthening education and training of health workers in five countries in the WHO Western Pacific Region. Countries have identified the need to understand how updated curricula and training methodologies, along with enhanced measures to effectively manage this knowledge, can be used to improve the competencies and skill mix of Primary Health Care workers. The Third Meeting on Health Professional Education Reforms in Transition Economy Countries was convened to bring together national stakeholders and international experts to support the development, implementation, and evaluation of policies and legal frameworks for the education and regulation of health workers to develop a competent and responsive Primary Health Care workforce in support of universal health coverage.
 The objectives of the meeting were 1) to take stock of progress on policy developments and the status of implementation of the recommendations and action plans developed during the previous meetings, 2) to identify measures to strengthen education and training of primary health care workers, 3) to share good practices and lessons on addressing gaps in the skills and competency of primary health care workers using knowledge management practices and tools, and 4) to enhance capacities of key stakeholders in health workforce regulation, including through use of the electronic tool for strengthening legal frameworks for health.
 Gunma University WHO Collaborating Centre sent 2 members to the meeting (Photo 1). During the meeting, they exchanged the opinions on the current state of health workforce education in five countries, and the role of the interprofessional education with national/international policy makers (Photo 2).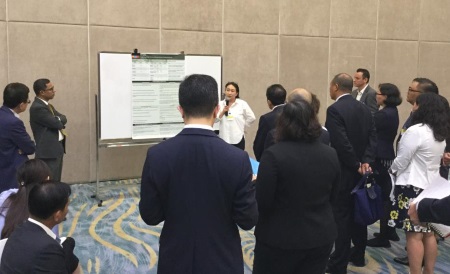 Photo2
Prof. Bumsuk Lee with the approval of WHO CC mission staff
26 August 2019